September is REALTOR® safety month, and while safety is always top of mind for us all year long, the occasion makes for the perfect opportunity to highlight a few recent steps we've taken to help real estate professionals manage safe showings. Best of all, every feature detailed below is now available to ShowingTime customers in most markets at no additional cost.
Showing Beacon®
Since its initial launch in select markets, Showing Beacon has quickly become a popular feature for agents looking to add some additional peace of mind to showings. Accessible from the ShowingTime mobile app, Showing Beacon allows agents to set a timer for a showing or client meeting. If the timer reaches zero before being cancelled, a designated contact will receive a text notification which includes details about the agent's current location.
Now, continuing our commitment to supporting safe showings, we're happy to announce that we've started rolling out the feature to even more markets in the U.S. and Canada. Where it's available, Showing Beacon can be used with ShowingTime for the MLS, the ShowingTime Appointment Center and ShowingTime Front Desk, offering an extra layer of protection regardless of which ShowingTime service is in use.
For a full overview on how to use Showing Beacon, click here.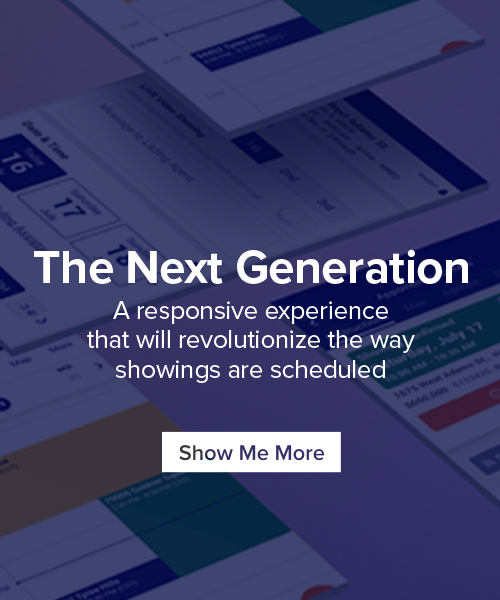 Showing LIVE Video
We announced ShowingTime LIVE Video during an uncertain time in residential real estate. As real estate professionals and their clients faced restrictions on in-person showings in many communities, we knew that it was important to offer a solution that allowed agents to keep showings going in a way that respected safety concerns and local restrictions.
ShowingTime LIVE Video addresses the reality that in-person showings are not always feasible or desired by clients by offering the ability to host live one-on-one video showings from within the existing ShowingTime mobile app (Home by ShowingTime for their clients), without requiring any additional account or application to download.
While conditions have improved dramatically since ShowingTime LIVE Video was first released, many still may be unable or unwilling to attend in-person showings. For them, we're pleased to announce that ShowingTime LIVE Video will continue to be available with their ShowingTime service at no additional cost.
SEE ALSO: Tips to Enhance Buyers' ShowingTime LIVE Video Experience | ShowingTime LIVE Video Frequently Asked Questions | Now Available: The Real Estate Agent's Guide to Virtual Showings
For a full overview on how to set up a showing with ShowingTime LIVE Video, click here.
New Options for Buffer Times and Overlapping Showings
When buyer demand is high, it's natural that the average number of showings per listing will jump, adding an extra layer of complexity to the scheduling process that can make clients feel uncomfortable in the face of health concerns. In this situation, listing agents and their clients must create a showing schedule that affords time to properly sanitize the home between showings and one which ensures optimal social distancing during each showing.
To meet these needs, we recently added some new features to our showing management services to add buffer time options between showings and prevent overlapping showings from being scheduled.
For overlapping showings, listing agents can now configure their listings to allow for one of three possible scenarios:
Allow overlapping appointments and notify showing agents when there is an overlap ("Yes, Please tell the showing agent ahead of time");
Allow overlapping appointments but do not notify showing agents of an overlap ("Yes, No need to inform the showing agents"); and
Allow one appointment at a time ("No, Exclusive appointment requests only")
For buffer times, agents can now opt to automatically include a block of time in between appointments in which no other showings can be scheduled.
For complete details on how to set up buffer times for your showings, click here.
For complete details on how to change overlapping showing settings, click here.
ShowingTime Secure Access®
Lockboxes offer a secure way to provide access to a home for a showing. But what if lockbox access could be made even more secure?
ShowingTime Secure Access was developed specifically to meet that need. Secure Access is integrated with all major lockbox vendors, including standard combination boxes, to provide lockbox access while keeping private details secure. With Secure Access, showing agents receive access details just prior to the confirmed appointment time. Using the ShowingTime mobile app, agents gain one-touch access to compatible devices by simply tapping the "Unlock" button during the appointment time, ensuring that the right buyer's agent has access to the right listing at the right time.
Secure Access is available in select markets and we're continuing to introduce the feature in markets throughout the country. If Secure Access is available in your market and you'd like to learn more about how to take advantage of its features, click here.
Fortunately, real estate professionals rarely find themselves in a situation in which they feel unsafe. Nevertheless, we're proud to regularly introduce additional safeguards into showings to help agents and their clients gain peace of mind throughout every step of the process.
---
Are you a real estate agent looking for the latest technology to help you save time? Learn how the ShowingTime Appointment Center can be used to handle every showing request, freeing up your time to focus on other tasks to grow your business.