Earlier this fall, we unveiled the first details of the next generation of ShowingTime's showing management platforms. From the response we've received, it's clear that many of you are eager to take advantage of the new, streamlined interface and all the additional efficiencies it'll add to your workflow.
We're just as eager for you to take it for a spin. For us, the forthcoming update is the culmination of our more than 20 years of experience as a leader in showing management, including extensive feedback we've received from countless real estate professionals in the U.S. and Canada.
As we approach the release of this exciting update to our showing management platforms, see below for our response to a few of the more common questions we've received.
What is ShowingTime's next generation user experience?
As the name implies, the ShowingTime next generation user experience is a forthcoming substantial upgrade to our showing management platform.
Our development teams embarked on a fundamental redesign and re-engineering of the existing ShowingTime showing management platform, retaining the original functionality while creating a cleaner look and adding more flexibility and customization. Users can choose between light or dark mode, select multi-lingual options, operate while offline with ShowingTime's Showing Sync™ technology and much, much more.
We'll be revealing more details on specific changes you can expect to see in the weeks to come. Until then, check out our overview video below for a look at what's to come.
When will I be able to access the next generation experience?
We will begin rolling out the ShowingTime next generation user experience in select markets at the end of this year, with a wider rollout to follow. We'll be sure to share specifics on when you can expect to see this upgrade in your market very shortly.
Of course, the next generation update isn't the only new feature we've been working on to enhance your experience. We've recently released a brand-new offer management tool, a host of safety features, the integration of a new lockbox vendor and a feature that helps buyer's agents working in inventory-strapped markets.
Will there be an additional cost to access the next generation experience?
ShowingTime's next generation user experience will update users' existing ShowingTime showing management service. As such, there will be no additional cost to access the new interface or features.
Where can I go to learn more about the update?
We'll continue to provide the latest updates on ShowingTime's next generation user experience on our blog, through monthly client newsletters and on our social media accounts. To be among the first to receive the latest details – a ShowingTime Insider – sign up for our mailing list by clicking the button below or by clicking here.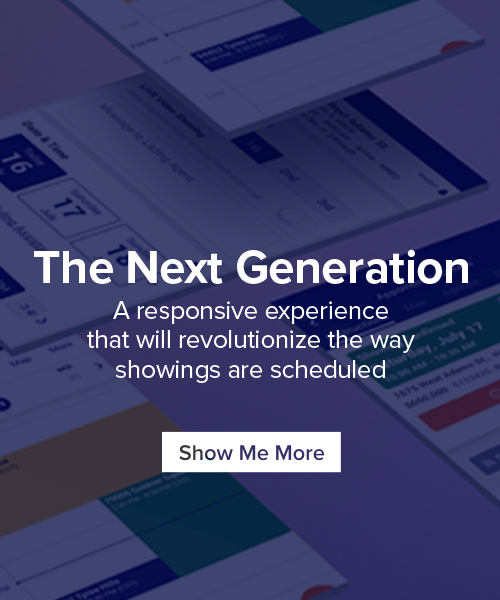 We have a lot more information to share with you about the great new features and enhancements to come to our showing management services, and we'll be sure to keep you current on what to expect when the next generation user experience becomes available in your market.
---
Are you a real estate agent looking for the latest technology to help you save time? Learn how the ShowingTime Appointment Center can be used to handle every showing request, freeing up your time to focus on other tasks to grow your business.