Since we first announced the upcoming rollout of
ShowingTime LIVE Video
, a feature that allows agents to conduct LIVE video showings directly from the
ShowingTime mobile app
, we've received an overwhelming amount of positive feedback from agents who are looking forward to taking it for a spin.
Now available in most markets, we've answered some of the common questions we've received about ShowingTime LIVE Video to help you get started. Have a question about ShowingTime LIVE Video that's not answered below? Reach out to us on Facebook, Twitter or LinkedIn and we'll be sure to provide an answer! You can also access an overview of ShowingTime LIVE Video by watching a recording of our recent webinar, How to Host One-On-One Video Showings with ShowingTime LIVE Video, by clicking here.
What is ShowingTime LIVE Video?
ShowingTime LIVE Video is a one-platform solution that equips agents and their clients with the tools to conduct live, interactive, one-on-one showings using video conferencing technology.
When will ShowingTime LIVE Video be available in my market?
ShowingTime LIVE Video is available in most markets throughout the U.S. and Canada.
How is ShowingTime LIVE Video different from a recorded showing or virtual tour?
Recorded showings provide a brief, generalized overview of a home. Virtual tours provide 3D floor plans for the client to see the home using still images. ShowingTime LIVE Video provides a personalized, interactive showing experience that allows prospective buyers to see the features they want to focus on – just as if they were at the showing in person.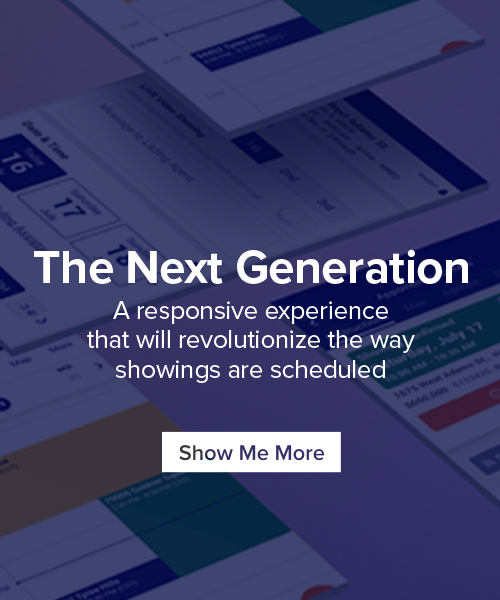 Why use ShowingTime LIVE Video instead of other live video streaming services?
ShowingTime LIVE Video uses the familiar showing and feedback management platform agents use – more than five million times every month – to schedule and conduct in-person showings, which means all the benefits derived from using ShowingTime's tried and true systems will apply to video showings. Using ShowingTime LIVE Video means sellers get to review feedback, see upcoming and previous showings, review the Listing Activity Report and more. Other live video streaming services are generic in nature, and are not specifically designed for scheduling or showing homes. Using ShowingTime LIVE Video through the ShowingTime mobile app gives prospective buyers a unique, one-on-one experience, similar to an in-person showing.
Who gives the LIVE tour of the property?
The buyer's agent decides who gives the live video tour, and who will speak as the tour is conducted.
How much does ShowingTime LIVE Video cost?
ShowingTime LIVE Video is available at no additional cost.
What technology is needed to use ShowingTime LIVE Video?
ShowingTime LIVE Video is accessible for buyer's agents through the ShowingTime mobile app, and for their buyers through Home by ShowingTime.
Do I need a Zoom account to use ShowingTime LIVE Video?
No. ShowingTime LIVE Video takes care of all the details for you behind the scenes so that the LIVE Video Showing experience is within the ShowingTime mobile app.
---
ShowingTime LIVE Video will be available to users of ShowingTime for the MLS, the ShowingTime Appointment Center and ShowingTime Front Desk. To learn more about what these services offer and to see how they can meet your business needs, reach out to our sales team by clicking the button below.