August 31, 2021 – ShowingTime, the residential real estate industry's leading showing management and market stats technology provider, previewed its next generation user interface for more than 200 executives from its MLS, association and broker clients during its annual Executive Forum in Chicago.
The redesign – the result of feedback gathered over the past two years from users participating in focus groups and one-on-one conversations with the ShowingTime product team – is an evolution of the company's showing management and market stats platforms incorporating the best-in-class user experiences from tools used by real estate professionals.
"Our redesign is meant to give users an intuitive experience that takes the best attributes of other software products they're using in their work lives and personal lives," said ShowingTime President Michael Lane. "We've invested in streamlining how our products work together and have enhanced the features our clients already know and love while adding new features they've requested. We pride ourselves on giving our clients great tools, so this is a logical next step toward our goal of helping real estate professionals succeed."
The product team embarked on a fundamental redesign and re-engineering of the platform, retaining the original functionality that has made it popular across the U.S. and Canada while creating a cleaner look and adding more flexibility and customization. Users can choose light or dark mode, select multi-lingual options, operate while offline with ShowingTime's Showing Sync™ technology and more.
For example, when an unexpected change puts agents ahead or behind schedule, SmartRoute technology provides options to alert upcoming appointments of the change. SmartRoute will also suggest similar homes to show along the planned route that can be confirmed instantly.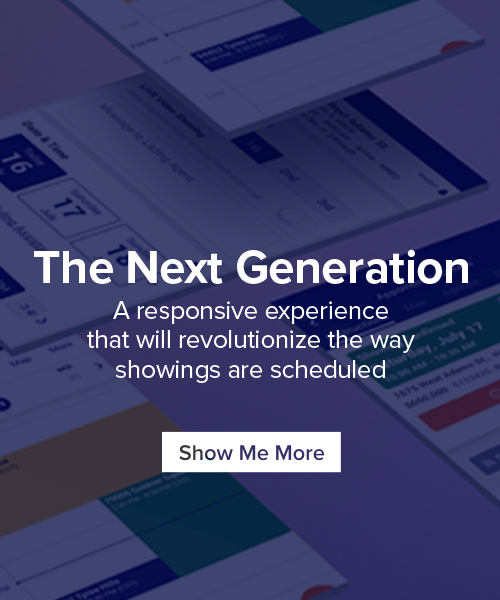 "Our integrated design works from any device and provides the same look, so users can easily switch between their desktops, phone, tablet or laptop, and between their professional and personal lives," said Mike Caputo, vice president, product management. "It was important to make tour planning, scheduling and appointment management as clean and straight forward as possible while giving clients the flexibility to use our platform in the way that works best for them. We're building a premier communications tool for agents to integrate into their everyday lives."
Lane said this next generation, which will begin to roll out this year, marks the beginning of a new era. "We work as an integrated partner with MLS systems and want to give agents simple ways to go back and forth from their MLS to ShowingTime and back. We intend to give our clients an experience that is familiar, adaptable and personalized, which will positively impact the way they schedule and manage showings."
About ShowingTime
Showing Time is the residential real estate industry's leading showing management and market stats technology provider, with more than 1.5 million active listings subscribed to its services. Its products are used in more than 370 Multiple Listing Services representing 1.4 million real estate professionals across Canada and the U.S. For more information, visit www.showingtime.com.