In case you missed our previous
announcement
, we have big news: we'll be introducing a major new update to our suite of showing management services! This new update will include the features you love about your ShowingTime service and enhance them. The update will also include a host of new features to introduce even more ways to effortlessly manage showings. All of this will be included in your existing ShowingTime service at no additional cost.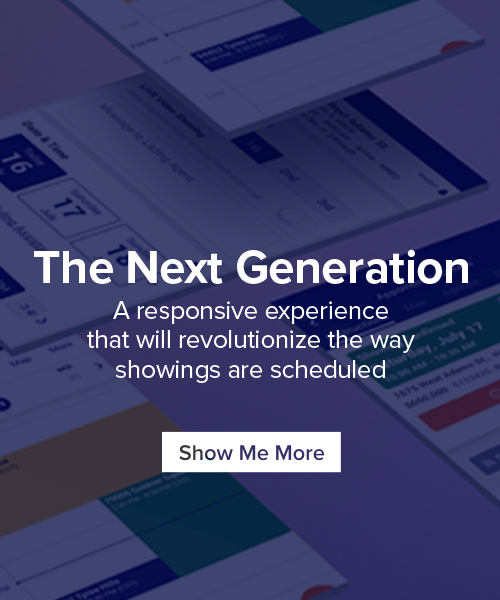 We've put a lot of effort into ensuring that this update provides an experience that's second-to-none for all users, regardless of their role. Suffice it to say, we're eager for you to get your hands on this new experience. While we're putting the finishing touches on the next generation of ShowingTime, here are a few new features we think are worth getting excited about.
Smart Route gets smarter
Smart Route is an innovative feature within ShowingCart®, ShowingTime's scheduling tool that enables agents to point, click and create a buyer's tour from our showing management platform. The feature automatically sorts a user's stops in the order that's most logical, resulting in a more efficient route given the destinations. Smart Route uses the first stop on a tour as the starting point and organizes the rest based on driving time and distance.
With the next generation ShowingTime experience, Smart Route gets an upgrade, offering alternative tour suggestions when needed; for example, if an unexpected cancellation occurs, and you want to add another listing on the fly; or if you're early/late to an appointment and need to notify others. When time is of the essence—which as any real estate professional will attest, is often the case—Smart Route is invaluable for optimizing your tours and for making a busy day as organized as possible.
Offline Mode
Even as our phones become an increasingly integral part of our lives, mobile data dead zones remain an unfortunate reality for many of us, especially when traveling in less densely populated areas. This can be particularly rough for real estate agents when away from the office, where access to a connection is often necessary to access information from a mobile device.
The offline mode that will be included in the next generation ShowingTime experience was designed with this all-too-common issue in mind. As the name suggests, the offline mode allows users to access crucial appointment information, even when a mobile data connection is unavailable.
Multiple calendar views
In a day, how many times do you check your calendar? If you're like many real estate professionals, that number could be quite high. When you introduce the fact that many real estate professionals have a very busy calendar, that regular task can indeed become unnecessarily complicated.
Thankfully, the next generation ShowingTime experience will include new calendar customization options that will give users greater flexibility. With the update, users will gain the ability to view their calendar by month, as well as with three-day, one-day and agenda views.
Two-way calendar sync
As mentioned, calendars can pose a roadblock for busy real estate professionals. But a busy day doesn't end when out of the office; a real estate professional's personal calendar is often something that must be considered as well to create a streamlined schedule.
To that end, the two-way calendar sync options we'll be introducing with the next generation ShowingTime experience could be a gamechanger. The option will allow users to see their personal schedule overlaid on their ShowingTime calendar, greatly streamlining scheduling duties and keeping all upcoming appointments and obligations conveniently in one place.
Personalized user experience
In addition to a host of enhanced and new features, ShowingTime's full ecosystem will also be receiving a complete interface overhaul. We believe that this new interface represents more than just a shiny new coat of paint—we believe it will make it easier for users to do their job as well.
Beyond the new look, users will also be able to personalize multiple facets of the interface, including a highly demanded ability to switch between light/dark mode. In select configurations, company and agent branding options will also be available within the new interface. We'll also be introducing support for multiple languages to equip an even more diverse group of real estate professionals.
The additions and enhancements above are only a few of the benefits ShowingTime users will be able to enjoy once this exciting new update is made available. We'll be revealing new details about what you can expect, along with information on timing and availability, later this year. For the latest details on the next generation update, be sure to visit our homepage to become a ShowingTime Insider, subscribe to this blog and keep an eye on our social media.
---
Are you a real estate agent looking for the latest technology to help you save time? Learn how the ShowingTime Appointment Center can be used to handle every showing request, freeing up your time to focus on other tasks to grow your business.