While the weather in your area may suggest otherwise, spring will be here before you know it! We can't predict exactly how markets will respond to what's traditionally the start of real estate's busy season, but it's always prudent to be prepared for whatever conditions we may see.
To help you prepare for the prospect of a busy season to come, we put together just a few of the ways we're ready to support your business.
Responding to Changing Market Conditions
Whether you're a buyer's agent, a seller's agent or you serve both roles, a busy market can make for an even busier day in the office (and often, beyond it). If last year's historic amount of activity throughout the country proved anything, it's that market conditions can turn on a dime and the most successful real estate professionals are those who have a workflow that's sufficiently streamlined to adapt to the changing conditions. Sounds easier said than done, right?
Thankfully, ShowingTime's showing management services are designed to evolve with the market, with regular updates rolled out to respond to users' needs quickly. While other showing services continue to play catch up to try to match the features we've offered for years, we're always looking ahead to introduce features with an eye toward the challenges real estate professionals are facing today – and the ones they're likely to face shortly.
For just a sample of a few of the recent exciting changes we've made during the last few months to enhance the ShowingTime experience, check out these recent blogs:
Meet Listing Media Services, A New Immersive Offering from ShowingTime+ | 3 Exciting Things ShowingTime Users Can Look Forward to in 2023 | Next Generation ShowingTime Experience Features to Get Excited About | ShowingTime's 2022 in Review
Helping You Stay Current on the Latest Market Conditions
While there's no crystal ball that can give you a look at the shape your local market will soon take, having access to the latest market data might be the next best thing. As most veteran real estate professionals know, timely data can be used to map the not-too-distant future to both adapt a business strategy and offer relevant guidance to clients.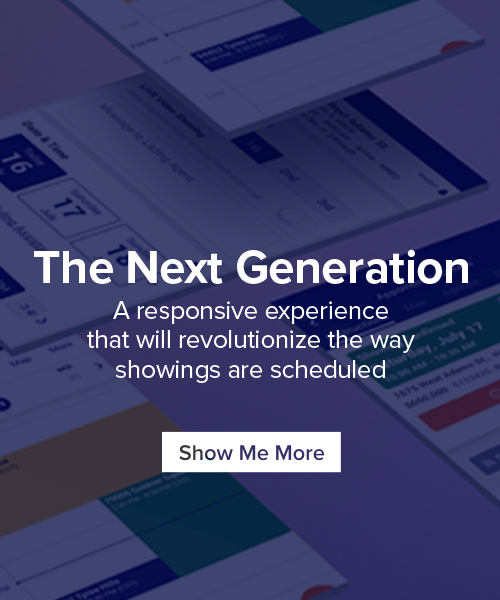 For ShowingTime users who have access to MarketStats through their MLS or association, they have access to vital local data that's as easy to interpret as it is to share with current and prospective clients. We also offer a free look at monthly showing activity across all regions in the U.S. through our Showing Index as well as daily buyer activity in most states and Canadian provinces with our daily showings charts.
For more information on how to utilize MarketStats to develop and revise your business strategy, take a look at these relevant blogs:
Let MarketStats' Tools Do the Heavy Lifting | Quick Access to Housing Inventory Data with MarketStats Widgets | Using InfoSparks to Create Conversations with Potential Clients | Making the Most of the FastStats Monthly Indicators Report
Providing Flexible Enhancements for Your Growing Business
Your business is always evolving; shouldn't the technology you use to run it be as well? It's no coincidence the industry's favorite real estate technologies are those that eschew the one-size-fits-all approach to instead accommodate the fact that real estate businesses are as diverse as the professionals who run them.
It's that thinking that drives the development of every service we offer, and the customer feedback we receive overwhelmingly drives home the point that such flexibility is very welcome. That's why we offer enhanced services for those who need them, seamlessly integrated within the existing ShowingTime service users are already familiar with, without making those who don't need them deal with unnecessary options.
If you're planning on expanding your business in anticipation of the busy season to come, we offer a host of add-on services that could significantly lessen the load on your shoulders the new business could add. Services like:
No matter how your local market fares this spring, ShowingTime can be your trusted partner to help your business succeed.
---
Be prepared for whatever the spring market has to offer. Whether you already use ShowingTime through your MLS and are looking for an upgrade to your existing services, or you're new to the ShowingTime ecosystem and you want to know more about how we can save you time and money, we offer solutions that are tailored to your needs. Reach out to our Sales Team by clicking the button below to learn more.