ShowingTime offers a host of valuable resources to help real estate professionals succeed in business. Beyond the popular showing management, offer management and market statistics services we offer that are leveraged by top real estate professionals throughout the U.S. and Canada, we also provide useful resources to share best practices and timely thought leadership to help the industry navigate the changing landscape.
One such resource is our growing library of webinars covering both the services we offer and handy tips to streamline business. While held live to give viewers a truly interactive experience, we realize that free time is in short supply for busy real estate professionals and so offer recordings of our top webinars that can be accessed at any time.
See below for an overview of a few of our most recent webinars you can access today. To review a few of the other webinars we've covered in another blog, click here. For a complete list of our ever-growing list of on-demand webinars, visit the ShowingTime Resources page by clicking here.
ShowingTime: The Next Generation
Soon, you'll have a chance to see the next generation of ShowingTime's industry leading showing platform!  Explore the upcoming features and innovations of the Next Generation of ShowingTime, a familiar experience, enhanced for today's real estate professional.
You'll learn about the enhancements and new features coming in 2022 and 2023!
These include:
Enhanced user experience
New agent dashboard
ShowingCart®'s improved Smart Route feature
And so much more!
To watch ShowingTime: The Next Generation, click the image above or click here.
Click here to become a ShowingTime Insider to get timely updates on the rollout!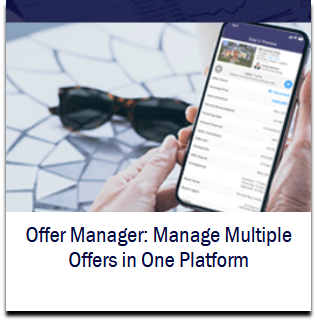 Offer Manager: Manage Multiple Offers in One Platform
Managing offers via email can quickly overwhelm your inbox, leading to missed offers, misplaced documentation and frequent, time-consuming back-and-forth exchanges between agents.
Our add-on solution, Offer Manager by ShowingTime, will allow you to efficiently manage offers and communicate with buyers' agents.
With Offer Manager, you can:
View all offers organized by listing
Receive offer alerts by text, email or app notification
Easily communicate with buyer's agents who submit offers
Quickly generate a side-by-side offer comparisons to your sellers
And more!
To watch Offer Manager: Manage Multiple Offers in One Platform, click the image above or click here.
Monitoring Agent and Office Performance with MarketView Broker
Holding each of your agents accountable for meeting sales goals, leads to an increase in productivity and helps build a more successful brokerage.
How are you measuring your agent's performance versus competing agents?
One simple tool that can help you is MarketView Broker.
Join us as we highlight ways MarketView Broker can help you:
Monitor the productivity of individual agents
Compare your office performance versus your competition
Track the long-term performance history of your agents and office
To watch Monitoring Agent and Office Performance with MarketView Broker, click the image above or click here.
---
From the services we provide to the industry best practices we share, we're committed to leveraging the latest customer feedback to ensure our offerings are suited to help real estate professionals tackle today's challenges. If you're looking for a timely solution to help streamline your business, click the button below to speak with our Sales Team to see how our offerings can meet your unique needs.