With MarketView Broker, real estate broker/owners can identify talent, analyze the market and advance their business.
MarketView Broker is a browser-based, in-depth analytic tool that not only serves as a valuable recruiting tool for brokers, but also allows them to scout potential expansion areas and evaluate neighborhood sales activity.
Here are five things you can do with MarketView Broker.
1. Identify Top-Producing Agents
Within MarketView Broker, broker/owners can perform agent, office and firm searches by using more than 17 different filters, including volume, units, price range, property type, construction, sales type and more.
You can also view agent and office details by clicking on the name, and sort results by several pre-defined periods of activity, total units and volume, percent of market share and more.
2. Follow Potential Recruits
Using MarketView Broker's in-depth database, broker/owners can follow and keep tabs on up-and-coming agents by adding them to their personal watch list. Once you've discovered a pool of agents, you can dig deeper to find the one(s) who would best fit your office by viewing and sorting their production using more than 17 different filters.
3. View Office Details
See how your office stacks up against the competition by viewing, sorting and filtering offices within your area by numerous statistics over a given time period.
You can view the results in a line graph to easily identify trends.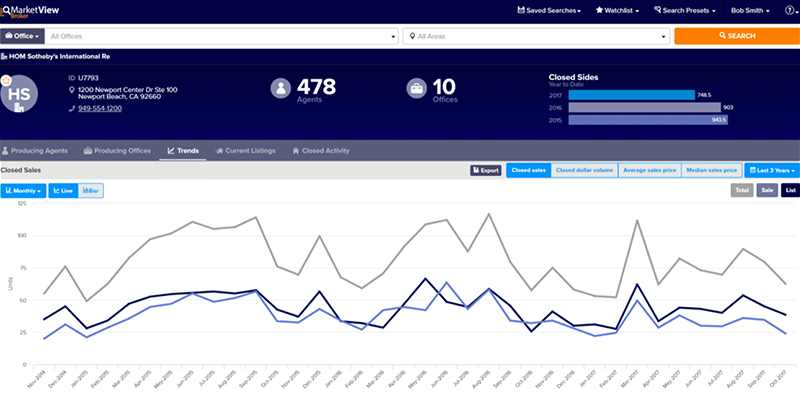 Or view them in a bar graph to see how your office compared to others during a specific month.
4. Create Custom Searches
Do you want to focus your recruiting efforts on a specific area? Or analyze your market share and identify areas for expansion? MarketView Broker offers two convenient search options.
First, you can use our advanced mapping tool to create your own area or areas, which can be saved for future searches.
You can also look at the data in a list view.
5. Save & Export
Save your search parameters so they're readily accessible in the MarketView Broker toolbar for when you need them next.
You can export your searches, which will include your search criteria as well as agent contact information, office name and MLS ID.
---
Are you a real estate broker looking for state-of-the-art recruiting tools? Learn how MarketView Broker can help you identify talent, analyze your market and advance your business.