While we may have a lot of summer still ahead of us, we know that no business has ever suffered for preparing for the next season well in advance of its arrival. Like last autumn, this fall promises to be unlike any other in recent memory. Fortunately, the first half of the year has given us all reason for optimism as we head in to what is historically a slower part of the year for real estate. Based on what we've seen from recent showing data and heard from our clients who have shared insight about the conditions in their markets, we've gathered four things to consider to help you prepare for the fall market ahead.
Prepare A Contingency Plan for Changing Conditions
Is there any question that we've all made tremendous strides in the last few months? As an industry, residential real estate has shown remarkable resilience in the face of many unprecedented challenges. The proof is in the pudding: data from the ShowingTime Showing Index® have shown that buyer demand has reached historic heights throughout the last few months.
But as every seasoned real estate professional knows, no market lasts forever. Moreover, while communities have made headway in the fight against COVID-19, there has been growing reason for concern that the Delta variant could lead to renewed restrictions on showings. While buyer demand is still high in most regions, it would be prudent to anticipate the inevitable normalization to more typical demand and plan accordingly.
Those who are in markets that may be seeing a pullback from the historic demand witnessed earlier this year, however, can make the most of the newfound free time and use it to consider their marketing strategy for lead generation. A good marketing strategy is one that reflects the current market conditions. If buyer demand does see an appreciable drop in your market, you'll want to update your messaging to highlight the unique skills you bring to the table that will help you thrive in the changing market. You might also consider leveraging new mediums to generate leads, like social media as we covered in our newest free guide.
Marketing Resources from ShowingTime: 5 Questions to Ask Yourself to Build Your Brand |5 Successful Real Estate Webinar Musts | 25 Effective Real Estate Marketing Ideas | Top Free Marketing Tools for Real Estate Agents & Brokers | Real Estate Marketing During the Holidays
As for navigating the changing expectations regarding safe showings in the face of COVID-19, we've introduced several resources in the last year that may come in handy.  For example, have you considered introducing virtual showings as an option for your clients? Virtual showings have quickly become a popular option for agents and for those who use ShowingTime to manage showings, ShowingTime LIVE Video is an option to facilitate live video showings right from their existing interface.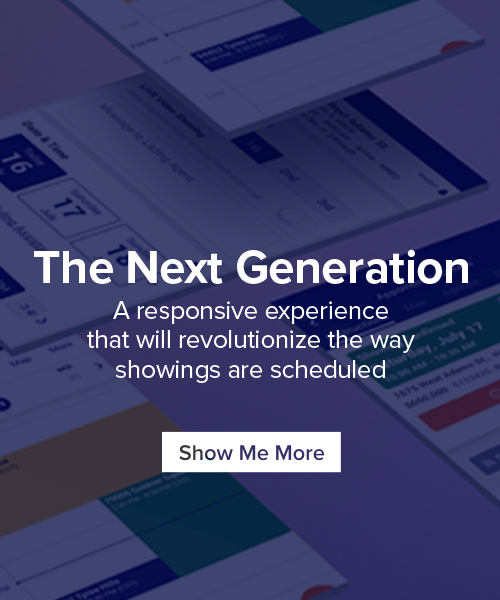 Stay On Top of the Latest Market Trends
Trends can change rapidly, and those changes can have a significant impact on your business. As you consider your fall strategy, you'll need current local data to inform the decisions you make. Fortunately, ShowingTime provides multiple services designed to help real estate professionals gain the kind of valuable insight that will help guide them through the months to come. Beyond the extensive suite of market statistics services we offer on the MLS/association level and the previously mentioned Showing Index, did you know that ShowingTime also offers a look at daily home showing activity for most states/provinces?
ShowingTime's daily showing activity tracker is a free resource real estate professionals can use to get a sense of what showing activity is like in their neck of the woods and compare it against activity realized at the same time of the year in previous years.
Keep Current on the Latest from ShowingTime
The last year has presented us all with many challenges. But we've worked closely with our clients to make the most of the adversity to rapidly introduce new features and products designed to allow home showings to continue without interruption. In the last few weeks alone, we've introduced the highly-anticipated Waitlist feature*, more options for overlapping/buffer time showings and expanded availability of the Showing Beacon® feature to even more markets.
And there's more where that came from – we'll be introducing even more features and updates to the ShowingTime experience in the weeks and months to come. To stay current on the latest ShowingTime updates, be sure to follow us on Facebook, Twitter and LinkedIn, and bookmark the ShowingTime Resources page.
Find Time to Take a Breather
This may be the last thing to consider on the list, but it's also likely the most important. The year has been a busy one so far, and there's sure to be more where that came from. As you consider how you're going to handle fall – and the rest of the year beyond that – we're pleased to be able to offer ample ways to help real estate professionals reclaim some well-deserved time to step back, take a deep breath and approach whatever challenges that may lie ahead with confidence.
SEE ALSO: 5 Ways to Save with ShowingTime Upgrades | 4 Tips to Help You Declare Your Independence from the Office | Five Daily Pain Points the ShowingTime Appointment Center Removes | 9 Stress-Reducing Tips for Real Estate Agents
No matter what conditions await us in the months to come, we'll be on your side to provide benefits that can help you offer the highest level of service to your clients.
*Available in select markets
---
Don't get caught off guard by changing seasonal demand. Take advantage of ShowingTime upgrades like ShowingTime Appointment Center Plus and ShowingTime Live Connect to free up your time today to build your business so it can thrive tomorrow. Click the button below to speak with a member of the ShowingTime sales team to talk about your business needs.