ShowingTime technology has been helping real estate professionals offer clients a higher level of service since 1999. Since then, we've seen the industry go through some pretty big changes. And, if the previous 22 years are any indication, we expect 2022 will continue that trend.
As we begin an exciting new year, here are four predictions for 2022.
1. The showing management marketplace will see exciting innovations.
There's no doubt about it, 2021 marked a historic year for showing management, exemplified by the entrance of several new providers and services. At ShowingTime, we believe that a diverse marketplace is a healthy marketplace, and we welcome the challenge to remain the industry's top choice for showing management that competition introduces. To that end, we believe 2022 will be a banner year for showing management innovation.
While we can't speak for what others will be doing this year, we know that 2022 will see the introduction of a host of ShowingTime innovations, beginning with the highly anticipated release of the next generation ShowingTime experience. With it, we're confident that long-time ShowingTime users and those new to the ShowingTime ecosystem alike will greatly benefit from the streamlined new interface, the new and enhanced time-saving features, and the expanded mobile functionality it will offer.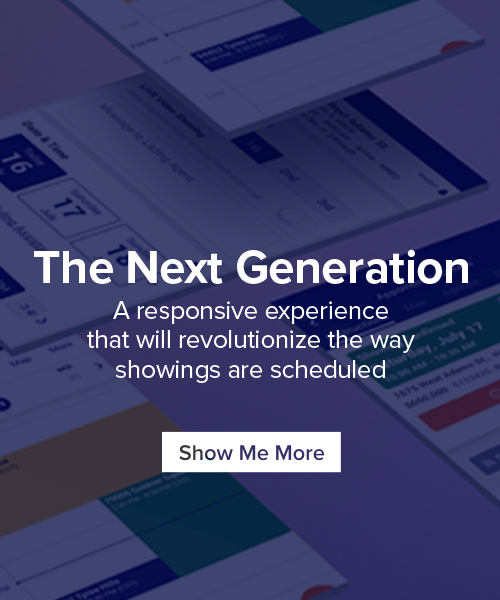 Bonus:
Join us Thursday, January 27 at 9 a.m. CT or 1 p.m. CT  for a webinar covering what ShowingTime users can expect from this major new update to the ShowingTime experience.
Click here
to register for a webinar.
2. Adoption of technology to automate more real estate tasks will jump to record numbers….
If you're an industry veteran, your workflow today likely bears little resemblance to your workflow from only a few years ago, while the workflow of a real estate professional working in our inaugural year of 1999 would seem downright alien. Given the consistent rapid evolution in our industry, our prediction that technology will only continue to have a more prominent role in real estate may not seem like bold one, but it is one that will nevertheless have significant implications throughout the year.
The feedback we've received from our clients over the last year tells us that real estate professionals are increasingly comfortable relying on technology to remove the burden of an ever-increasing list of common tasks. While this has long been true for showing management in general, we believe that 2022 will see technology increasingly employed to handle other tasks that have until recently been a burden handled by busy agents or administrators. Tasks like call answering and message delivery, offer management, assessing office activity and sharing timely market data can now be effortlessly streamlined with technology, and agents' increased comfort with using them to make work more efficient will become readily apparent in 2022.
For more insight into how Offer Manager by ShowingTime streamlines offer management, check out this great article by The Real Deal.
3. …but the human element in real estate will remain as vital as ever.
From the day we released the first version of our showing management software, our perspective has been that real estate technology should enhance the agent-client relationship, not remove it. The use of ShowingTime to manage home showings tells us that this view is one shared by real estate professionals throughout the U.S. and Canada. In 2022, we believe that the relationship between technology and personalized service in real estate will become stronger than ever as both real estate professionals and their clients alike grow even more comfortable using tech to foster stronger relationships.
Nowhere is this relationship better exemplified than with the ShowingTime Appointment Center. The industry's leading appointment center service combines the benefits of ShowingTime technology with the tried-and-true advantages of having a live voice on the phone to handle appointment requests. The success of the ShowingTime Appointment Center in the face of an increasing adoption to automate so many showing management tasks speaks to its value for agents for whom a personal touch remains a top priority, even as tech handles many of the behind-the-scenes tasks.
4. Non-traditional showings will become increasingly accepted by buyers and sellers alike.
As we mark the second full year living and working with a mindfulness around COVID-19 safety precautions, we expect to see non-traditional showings continue to become normalized as a reliable method to keep home showings going even when local restrictions on in-person showings, safety concerns or simple feasibility issues make conventional showings impossible.
Faster internet connections and cameras capable of capturing video at higher resolutions have made live video showings like those offered with ShowingTime LIVE Video a favorite option for agents and their clients. Since its launch in the summer of 2020, ShowingTime LIVE Video has been used by thousands of agents to provide high-quality live video showings through the existing ShowingTime mobile app (or for their clients, Home by ShowingTime), all without requiring any additional download or login to access. Best of all, ShowingTime LIVE Video is included with all ShowingTime showing management services. If the rate of adoption of this service seen throughout 2021 is any indication, we believe that 2022 will be a high-water mark for this exciting new way to host showings.
---
Get a head start on your new year's business resolutions with time- and cost-saving showing management solutions from ShowingTime. Click the button below to learn how to get started.