Did you know that ShowingTime is now part of ShowingTime+, a software suite that helps agents, brokers and MLSs streamline their businesses and deliver elevated experiences to their customers by combining existing solutions from ShowingTime and dotloop, along with introducing new solutions like Listing Media Services and the forthcoming Listing Showcase? Be sure to bookmark the ShowingTime+ homepage (showingtimeplus.com) to stay up to date on the latest offerings we provide to simplify your workflow.
---
As industry veterans no doubt remember, before we began offering our first showing service in 1999 home showing management looked very different than it does today. Without the ease and convenience of having a one-stop shop for scheduling showings, streamlined agent communication and feedback management, agents were forced into protracted games of phone-tag and navigating ever-growing paper trails.
Today, of course, showing management is as simple as tapping a few buttons in a mobile app or calling an appointment center, retiring outdated and inefficient ways to handle showings for the betterment of both agents and their clients. But we weren't satisfied with improving the workflow of showing management alone. Based on extensive feedback we've received from ShowingTime users, we knew that offer management remained stuck in a similar place that showing management once languished.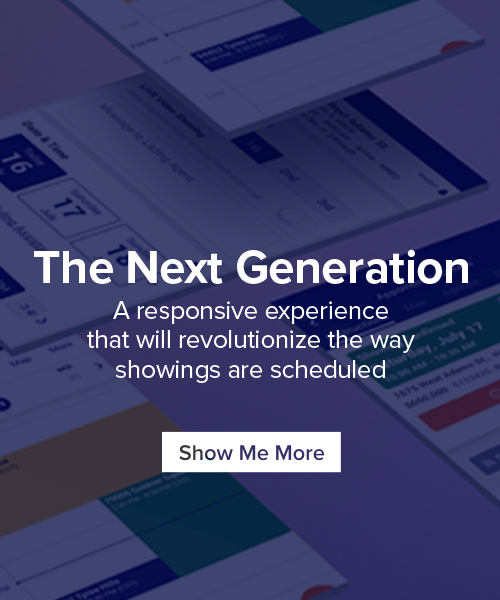 That's where Offer Manager by ShowingTime+, the powerful offer management tool included with Appointment Center by ShowingTime+, comes into play. To demonstrate how Offer Manager is to offer management as ShowingTime's showing services have been to showing management, we've highlighted three benefits Offer Manager provides that we believe are truly game changing.
Side-by-Side Offer Comparison Tool
While there's a lot of attention placed on easing the burden on home buyers these days, we know that selling a home can be just as overwhelming. Even at the point in which offers start to come in, agents and their sellers still face many decisions which can prove to be very stressful.
"Before Offer Manager, I would literally have to print out every offer," said Kathy Damewood, an agent in Englewood, Fla. "I either made my own spreadsheet, or I had to jot the pertinent information down longhand on a big yellow legal pad. It was cumbersome and a waste of time, and there wasn't one place to keep track of the documents I needed."
Offer Manager's side-by-side Offer Comparison Report was developed specifically to streamline the process of comparing multiple offers. Unlike the old days of having to coordinate offers individually, the Offer Comparison Report offers agents a single, easy-to-read chart that highlights all the relevant details of the offers received. Best of all, the report is accessible from a desktop, laptop or, with the ShowingTime mobile app, from a mobile device, making it very easy for agents to show their clients.
In a time in which it's not uncommon for agents to receive offers that can number in the double-digits based on high demand, the Offer Comparison Report is an especially useful feature to parse the many offers that come in.
Communication Features
For all the many benefits, the introduction of email and texting as tools for agents to communicate with each other has only served to change – but not eliminate – the back-and-forth chaos that can complicate offers. Email and texting alone are not enough to prevent one agent from being unclear about whether the other agent has received an important document, details on contingencies or other vital information.
With Offer Manager's suite of integrated communication tools, this situation has thankfully become a non-issue.
For starters, Offer Manager provides confirmation when an offer has been viewed, complete with details on the timing when the offer summary was seen. Offer Manager also gives agents the ability to send an email blast email to all buyer's agents who have scheduled a showing, like in a highest and best situation, removing the need to reach out to each of them one at a time.
Of course, sometimes it's necessary to contact an agent by phone or email. When that's the case, Offer Manager allows agents to easily access all available contact information, letting them easily text, email or call a buyer's agent who has made an offer without having to search.
All Offer Details on One Screen
Thanks to Offer Manager's streamlined interface, all offers are automatically organized by listing and allows easy access to all offer documents, an at-a-glance offer summary and the buyer's agent contact information. What once was managed by email and spreadsheets can now be managed from a single screen on mobile or desktop. This is perhaps Offer Manager's most essential benefit for the agent that wants to up their game professionally and do so must faster.
When time is of the essence for both seller and buyer alike, agents need every competitive advantage they can get to offer the highest level of service their clients expect. For them, Offer Manager may be just the advantage they need. Offer Manager is included with Appointment Center by ShowingTime+, our full-featured showing management solution.
---
Offer Manager changes the game for offer management. Seamlessly integrated within the existing ShowingTime showing management platform in use by agents across the country, taking advantage of Offer Manager's benefits requires very little additional onboarding to get going. To learn more about how you can enjoy this and other valuable features included with Appointment Center by ShowingTime+, or add this valuable service to your existing ShowingTime service provided by your MLS, click the button below to schedule a call with our expert Sales Team.